... in
Mountainair
, at the Dr Saul Community Center, 10 am - 5pm. Organizer Joan Page reports some
vendor space
is still available. Give her a call, 847, 2450 or email ziggos@yahoo.com. Joan will have a chocolate fountain, even if not
the world's largest chocolate fountain
, with frozen banana halves on a stick, others fruits, pretzels and more to dip.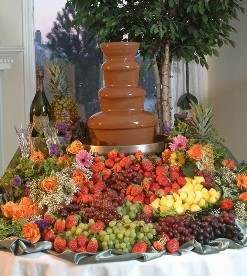 Maybe not exactly this fountain, but you get the idea
Gayle will be back with her Karaoke equipment and to announce. Strolling impromptu players welcome but do give Joan a heads up. The Community Garden will have a table too, last chance for fresh green tomatoes. I'm waiting on more vendor information ~ will keep you posted here and on
Facebook
as it comes my way. If you are vending/exhibiting, drop me a line about your wares, link, contact information, pics too if you have them. Advance exposure, publicity.
Arts council
members, look for an exhortation to support the event in your mailbox too. Some advance publicity deal for you too.